From Business Planning to Launch: How to Start a Clothing Line
Your dream of owning a successful clothing line doesn't have to remain a fantasy. With the right strategies in place, you too can join the ranks of successful fashion entrepreneurs. This article will show you how to start a clothing line – from online business planning to launch day!
Want to speed up your knowledge on how to start a clothing line? Omnilytics Fashion Academy is built to help all brands succeed.
No, you don't have to worry about resources when it comes to starting a clothing line. There are various business models that don't require heavy investments, so you can work with a small budget.
However, do note that if you want to be more involved in the entire production process – such as designing your own clothing – you'd need more resources.
But whatever it is you're interested in, this article covers it all. You'll learn not just the business aspect of it (which business model is suitable for you?), but also what to stock, where to distribute and how much to price. In other words, you'll discover tough retail concepts that would typically take years to master.
This article is written by Barry Ooi, who founded a fashion eCommerce brand that grew from an initial capital of USD2,500 to over USD1 million in annual revenue – so you're in good hands.
Ready to learn how to start your clothing line?
Table of Content
Choosing Your Online Business Model
Creating Your Brand Identity
Determining Your Sales Channels
Sales Forecasting
Your Clothing Line: The First Collection
Launch! Marketing Your New Clothing Line
Shipping & Logistics
Other Considerations
Want to read on the go? Download this article in a PDF format!
Choosing Your Online Business Model
The first step in building an online fashion business is to determine which is the right business model for you. Yes, this comes before you even decide your brand's name.
Understanding the different business models gives you a clear framework for your next steps.
There are four types of business models in fashion:
#1 Resellers
This involves sourcing and purchasing stocks upfront and reselling them for a profit. This model requires that you hold inventory and you are in charge of the storage, packing and delivery of all orders.
2. Dropship
You act as the middleman, bridging the gap between the third-party supplier and the customer. You do not hold any inventory as all orders are shipped by the supplier directly to your customer.
3. Pre-order
Your customers place their orders in advance on your eCommerce store. Upon receiving full payment, you order the necessary pieces from your supplier. Once received, you are in charge of delivering the order to your customer.
4. Private Label
You exclusively manufacture your own clothing line. You not only have to build your own brand awareness, but you are also responsible for the entire journey from design to manufacturing.
Here's a complete breakdown:
The decision on the best business model for you will be a personal one, requiring careful consideration.
To learn more about an effective supply chain, download our free guide:
Creating your brand identity
It's tempting to just pick a random name and move on, but your brand identity is more than that. Homegrown brands with a distinct identity have the power to attract many, as consumers can resonate with their messaging.
When you have a great product, people buy it; but when you have a great message, people embody it.
With the right brand identity, you too can achieve the same. Here are a few key steps to get you started:
1. Conduct a competitive analysis
First, analyse the market you're about to enter. Are you going to break into the luxury market or fast fashion? Does your chosen market show strong growth opportunities, or is it the opposite? Identify both direct and indirect competitors, then analyse their positioning, strengths and weaknesses. It's even better if you can find a market gap to fill.
Plotting a perceptual map eases your understanding of where your new clothing brand stands in the competition.
Remember, it's easier to do another set of competitive analysis than realising you've branched into a declining market.
Want a more in-depth analysis of how to analyse your competitors? Check out Omnilytics Fashion Academy, a comprehensive online training program covering the full fashion journey.
2. Target audience
"My target audience is everyone!" is the wrong mindset.
Fashion covers a broad spectrum. It's personal, individualistic and subjective. So naturally, not everyone will fit into your target audience.
Once you know the market you're branching into, clearly define your audience. It can be as simple as "women in their early 20s", but it's best to be more specific. Break down their behaviours, lifestyle affinities and everyday routines.
Are they trendsetters or fashion followers? Who do they follow on social media? What are their interests? Where do they hang out? Why do they need your product?
As fashion gets faster, knowing your audience pays off in the long run – especially in today's consumer-driven landscape.
3. Brand personality
After knowing your audience, you then craft your clothing line's personality – the tone of your brand's voice. It isn't just the words you use, but also the images (visuals), how you display your products (visual merchandising) and your website layout. In simpler words, it's how you want your audience to describe you.
If you're going with contemporary, then perhaps you can incorporate white spaces and minimal designs. If you want to be seen as a luxury brand, try elegant fonts and royal colours.
Whichever you pick, make sure you're consistent.
4. USP
You've probably read about USPs (Unique Selling Points), but you're unsure how exactly to create it in a world where nothing is deemed original anymore. Well, forget what you've read before because USPs aren't about creating, they're about differentiating. After all of the research you've done, you're bound to find something that's lacking (or can be improved) in the landscape.
Is there a better delivery service you could provide? Can you create an exclusive clothing design that no one can replicate? Perhaps you can offer premium quality at affordable pricing?
It doesn't have to be your product, it can be the history behind creating your brand or the logistics. But more on that later.
5. Brand name & logo
Yes, you can start thinking of your clothing line's name and logo now. Though if you're being honest, you probably already have a name or two by now. While there's no rule in creating a brand name, it's best to avoid anything that sounds similar to an existing brand or are hard to pronounce or spell. You want people to remember it, not get confused.
Names that are too generic – no matter how catchy they are – will not benefit you in the long run. If you google terms like 'Fashion Lover' or 'Great Style', you'll realise that the search results are filled with content from various sources. With a generic name, you'll find it difficult for your clothing line's page to rank.
Before you settle on a name, do a quick Google search – ensure your clothing line's brand name is original and doesn't resemble anything that already exists.
As for your logo, you can take a look at some of the best logos ever created. What do they have in common? Simplicity.
6. Vision & mission
Yes, you're probably thinking: Who reads the vision and mission anyway?
The vision and mission statements help keep your company aligned. It steers your clothing brand in the right direction, each and every time. Writing these statements help you make the best decision for your online clothing line, may it be in marketing, sales or even hiring.
If your mission is to provide sustainable clothing, then you'll know who to collaborate and work with. The same applies to the products you own, the people you hire and the messages you write.
Determining Your Sales Channels for your Clothing Line
New entrepreneurs often allocate most of their time, money and effort towards building their clothing line's first collection, only to realise no one even knows about it. Yes, your product is important, but what's more important is the distribution.
Since you already know your audiences' preferences, habits and routines, determining your sales channels should come effortlessly.
Where do they usually shop? Are they always on social media? What's the best platform for them to discover your new clothing line?
This also helps in creating your sales forecasting template, since you'll already have a rough idea on the total cost for setting up your sales channels. But more on that later.
Here are a few ways to distribute your first clothing line:
Your own e-commerce site
List on marketplaces
Social media
Let's break it down.
Want a copy of this ebook? Download here!
E-commerce site
"I don't know how to code!" or "I don't have the money to hire developers" is probably what you're thinking of now. However, you don't need either to build your own website. There are plenty of available e-commerce providers for you to choose from.
3 of the most popular e-commerce platforms are Shopify, Woocommerce and Wix. All three are good choices, and have the basics:
Inventory management
Optimised for mobile
Create coupon/discounts
Support
Apps and add-ons
SEO tools (Woocommerce's is an add-on)
However, there are some features and design flexibilities that are only available in each respective platform.
*You can still build a gateway of your choice across all platforms (if not available) but note that it may take additional time and resources.
There isn't really a 'right' platform, as it ultimately depends on your preferences and store needs.
List on marketplaces
Another option is consigning to marketplaces. You don't have to exclusively sell on one particular marketplace, although that is an option. If you want to expand your reach, marketplaces are a great place to start – which is why some brands and retailers are available elsewhere even when they have their own website.
However, do take note that you may lose some form of control, especially in how your product is styled, displayed and sometimes, priced. Listing on marketplaces may also affect your cash flow. Each payment policies differ, but more often than not, you would only be paid after a certain timeline.
So before you sign that contract, research the marketplace first. Do you both have the same target audience? Are there any costs involved? Are there certain rules you must adhere to? What is their payment policy like?
For example, ASOS targets 20-year-old fashion lovers. They have a monthly subscription fee of £20, as well as a 20% commission fee on every sale made. All payments are managed by Paypal. ASOS does not list items made out of real fur.
Once you've done your research, then you can safely reach out.
Here are a few places you can start:
Asia – Zalora, Shopee, Lazada, FV
Europe – Zalando
UK/US – ASOS, Amazon
Social media
Amongst all three, selling on social media is the easiest alternative. You only need a social media account and you're all set. In fact, many brands started by selling on social media, before eventually creating a website. The most common platforms are Instagram and Facebook.
However, if you're going with this sales channel, keep in mind that unlike the other two, social media does not have a standardised checkout method. Customers may order by commenting, messaging or even calling. Be sure to standardise a method or schedule hourly checks.
Sales Forecasting
Once you've selected the sales channels to start with, you can now begin forecasting sales. Sales forecasting isn't 'predicting the future', it's informed guessing. This is a crucial step in any business because it serves as your guideline for the rest of the year – it manages expectations and lays out assumptions. There are two approaches:
#1 Top-down
You set sales forecasting before creating your first clothing line's collection, so you'll work with a set budget.
#2 Bottom-up
You count all of the costings first before forecasting sales.
It's recommended for you to go with the top-down option because you may have a tendency to create a larger budget than necessary with the latter.
Here's a 5 step guide to sales forecasting:
1. Identify revenue streams
Identify various sales channels, which is what we discussed above
2. Forecast sales unit by month
Estimate the number of products sold per month
3. Forecast average selling price by month
Project the average selling price of total products each month
4. Compute sales forecast
The formula is sales unit (from step 2) x average selling price (from step 3) – this helps you understand your traffic flow and conversions
5. Pay attention to sales phasing
Look at a nearby calendar and determine which months could potentially drive higher sales
Your Clothing Line: The First Collection
Before we move on, do read these articles first:
The articles above give you the key foundation to building your first clothing line's collection:
Comp shopping the right way
Identifying the right trends
Setting the best prices
Your online business model will impact your first collection, as each model carries different weights in terms of costing and risks. If you're still unsure of which business model to go for, you can read through each section to better understand the process.
Our free guide teaches you how to build a bestselling collection:
Here's what we'll go through for each business model:
What should I stock/produce for my clothing line?
This section helps you to understand how to build your best assortment by studying trends' performances and learning the best comp shopping practices.
What's the right quantity to stock/produce?

Breadth – Variety of assortment (Categories)

Depth – Number of options for each item
You'll understand the mechanics of the depth and breadth of SKUs.
Work with market expectations and set the best prices.
Where should I source from/manufacture?
Find out the best places to source or manufacture your first collection, as well as search keyword terms to broaden your scope.
If you're choosing the reseller model…
What should I stock?
The basic categories to stock up on for any clothing line are tops, dresses, skirts, pants & leggings and outerwear. However, because you are buying your stocks in advance, you would need to be more precise – which is why it's recommended for fashion owners to do market research beforehand.
Take a closer look at your competitors by doing comp shopping. In this article, we listed out a few ways you can analyse your competitors. You can either:
1. Go comp shopping physically
This method heavily emphasises on the touch, feel and fit of the products. What materials are most commonly used? Is this comfortable? How is the fit?
Here's a table that you can use:
Adapted from Jackson and Shaw (2001)
While there are other things to take note of, such as footfall traffic and structure of the floor plan, they won't be relevant to an online store. Instead, pay more attention to the categories, styles, sizing and colours.
Note: The original table from Jackson and Shaw has a column for 'sales assistant' and 'shopping environment', but they're not necessary for your online clothing brand.
2. Opt to go digital
Now, this is more applicable to you. When conducting digital comp shopping, take note of the brand positioning, visual merchandising and sell-outs.
How do they display their products? What's the assortment mix? What is currently out-of-stock? What is currently on backorder?
Answering these questions will help you identify what you can stock up on. For example, an assortment mix heavily geared towards bottoms tells you that they are probably the brand's top-performing category and would likely be yours too. Similarly, analysing out-of-stock and backorder items could reveal best-selling styles that you should include into your clothing line too.
Social media is another option. Most brands have a unique hashtag, such as #AsSeenOnMe (ASOS) and #babesofmissguided (Missguided), so you'll have an overview of what people have purchased – and are showing off online.
However, keep in mind that if you're planning to use this method, understand the clear distinction between engagement rates and actual sales. Something that garnered 50,000 likes may not generate the same amount in sales numbers but could be a good indication of what's trending.
3. Adopt a data-driven approach
With real-time data at your fingertips, you'll be able to comp shop at a much quicker pace. A data-driven approach validates your assumptions and allows you to react in real-time. In today's fashion landscape, it pays to have speed, accuracy and precision.
Let's illustrate with an example.
Brand X and Brand Y are your competitors. Here, you can easily identify the top-performing categories. From here, break them down further to colours, sizes and styles.
From the series of snapshots above, it's clear what colours, sizes and styles are selling well in your market. Size 8 sleeveless tops in neutrals like black, white, grey and pink are your competitors' top-performing styles. Just like that, you already have a handful of information to work with for your next collection.
Whatever your chosen comp shopping method is, remember to always answer these questions:
What categories do my customers want more of?
What colours are trending now?
What styles are performing well?
What type of silhouette or fit are my customers looking for?
How much are my customers willing to pay for a certain style?
Studying trends' performance is equally important for a reseller too. To learn more, go to 'What should I stock?' under 'If you're choosing the Dropship model'.
What's the right quantity to stock?
In comparison with the private label model, the minimum order quantity (MOQ) for resellers are relatively low. Depending on suppliers, the MOQ can range from 10 pieces over various sizes per SKU or 2 pieces per size/SKU. There are also instances where you are free to purchase any SKU/size, as long as you meet the minimum value.
This, however, may lead you to face a potential risk of high deadstock – if not monitored well.
There are two ways to avoid this scenario:
1. Play it safe
If you're planning to buy say, 300 pieces per SKUs, cut it in half. Starting small will allow you to test the waters and once you're seeing growth, amp it up.
2. Benchmark against competitors
You can quantify by using your competitors' sell-out SKUs.
For example, Brand X, Brand Y and Brand Z have a range of 300 to 500 SKUs. The total sell-out, in contrast, fell only within the 100-200 SKUs range. From here, you can use the sell-out rates as a guideline. Since you're just starting out (and your competitors have been in the market longer), you can opt for an SKU count just slightly below their sell-out number.
How should I price?
Like the rest of the pointers above, there are various ways to identify the best pricing strategies.
1. Refer back to your sales forecasting
Take note of all the potential costs that may incur, which include:
Original prices of the product
Shipping fee from merchants
Shipping and packaging fee to customers
Emergency funds, e.g. parcels getting lost during the shipping process
2. Understand market expectations
Market expectations give you a clear idea of what the competitors in your market are pricing. While you want to aim for profit, you also don't want to be the outlier.
Let's refer back to your competitors, Brand X and Brand Y.
The price spread above shows your competitors' price positioning, which will help you understand the right range to price. In other words, it's the price range you can experiment with for your products.
3. Figure out your range
Have a think about the price ranges you want to offer. Do you want to offer premium, luxury, basics or all? Your brand identity, mission and vision will guide your decision in this area.
4. Compare with similar products from your market
Refer to 'How should I price' under 'If you're choosing the Dropship model' to understand how to compare similar products.
Where should I source from?
As a reseller, you have the choice of either scouting online or visiting wholesale factories.
Online
If you want to search online, start with:
Oberlo (Which also has a plugin in Shopify)
Before you buy, do read existing reviews to avoid buying low-quality items – especially if you're planning to buy in bulks.
Trade Shows
If you prefer to source physically, an option is to attend trade shows.
Here are the top 100 expos to look out for.
Wholesalers
If you want to look for factories or wholesale companies, use these keywords in Google or Quora:
Where to buy wholesale clothing in ______________ (your region)
Wholesale clothing suppliers _______________ (your region)
Wholesale clothing manufacturers __________________ (your region)
A list of wholesale suppliers in _________________ (your region)
If you're choosing the Dropship model…
What should I stock (what items do I display)?
For dropships, 'stocking' here means what you display on your website since you won't have ownership of the stocks. If you opt for this business model, you don't need to worry about the quantity at all.
However, you would still need to have a clear understanding of what is selling well in your market.
To learn how to comp shop, go to 'What should I stock' under 'If you're choosing the Resell model'.
For the dropship model, it's important to gauge your market trends' performance.
1. Watch your market closely
By looking at what other competitors are stocking up on, you'll get a rough idea of what's trending.
If you're branching out into the shoe market, for example, look at what the market is stocking up on, as well as what's declining.
2. Look at seasons and festivities
There are some trends that will eventually come back to life whenever a new season arrives. For example, florals, tropical prints and embroidered lace come back in style during the Spring/Summer season.
Sequins and metallics across tops and dresses, in contrast, are more prominent over the Fall/Winter season.
The same applies to festivities, in which most Asian brands pay plenty of attention to. The colour red, for example, would be prioritised for the Lunar New Year. Take a look at what people wear during these times and stock up beforehand.
How should I price?
Pricing strategies play an important role in the dropship model, as you'll be facing tough competition. Not only do you have to compete with resellers and private labels, but you also have to face other drop shippers that may carry the same product as you.
Let's look at an example.
Here, all three brands have a different price for the same product. Brand X had the lowest full price at USD 12.43, while Brand Y had the highest… though the latter eventually dropped to Brand X's full price. Brand Z hiked up its full price slightly, a difference of USD 3.32.
Most customers may go to Brand X to purchase the item since it has the lowest price. However, Brand Y proves to be a tough competition, as the item was discounted.
Even though it has the same price as Brand X, customers may still perceive it as a value-buy item, given its markdown. Brand Z may not get as much traction, but if USD 12.43 isn't enough to cover costs, both Brand Z and Brand Y still lose out in profits.
If you are competing with these 3 brands and assuming USD 15.75 is the minimum price to retrieve profits, there are a few ways to go about it:
You can set your price higher than Brand Z but offer a 10% discount on their next purchase.
You can set your price at exactly USD 15.75 and offer a free gift.
Look for price differences of the same product across different platforms. Always keep tabs on your clothing line's competitors, so you'll always be a step ahead of the competition.
Where to source from?
You can refer to 'Where should I source from' under 'If you're choosing the Resell model' for more variety – but keep in mind that not all platforms offer dropship services.
As you won't be handling the shipping or delivery, you won't be able to determine the quality of the product that's being sent out. The best way to mitigate that risk is by requesting a sample of the product you're planning to list on your site from the wholesaler you're working with. If you're happy with the sample, only then do you proceed to add it to your store.
Do not skip this step. If your customer receives a low-quality product, they will negatively associate it with your clothing line – not the manufacturer. Earning back that customer's trust will be incredibly difficult.
If you're choosing the Pre-order model…
What should I stock?
The pre-order business model is somewhere between reselling and dropshipping. You do handle inventory like resellers, but you don't need to do stock-taking like drop shippers.
Yes, you avoid the risk of owning deadstock, but that doesn't mean you should just display random products.
Read 'What should I stock' under 'If you're choosing the Resell model' and 'If you're choosing the Dropship model' to understand how to comp shop and analyse trends' performance.
How should I price?
The pricing architecture resembles the Resell model. To read, go to 'How should I price' under 'If you're choosing the Resell model'.
Where should I source from?
While you can physically travel and buy all the items you'd like to list on your website, it's not a feasible method – since you would need to travel every time you receive a new order. Going online is more practical.
Popular online choices are:
If you're choosing the Private label model…
What should I produce?
Unlike the rest of the models, you have full creativity and autonomy here. You not only control your own stocks, but you also produce your own clothing line.
With that said, aside from deciding on which categories to bring in, there are also plenty of other variables to factor in, such as materials, silhouettes and prints.
Before you design, write down the specifics of how you want your collection to come across. If you want, you can also create a mood board. Do you want a theme? Do you want to offer premium or basic wear? How many categories do you want to include?
Then research and identify the top performing trends of similar collections from competitors. Here are a few tips:
1. Look for markets in other countries
If you're in Asia, look to Singapore or South Korea's fashion market. If you want to branch into America, study the fashion trends in Europe. Fashion trends trickle from country to country, so if you want to stay ahead, look directly for the source.
By studying other markets, you'll be able to capture the trend just as it hits its peak in your own market.
2. Look at trends' movements
Trends' movements can be derived from many sources. Is there a buzz online? Are celebrities wearing them? Are brands stocking up on these?
If you want to release a dress collection, for example, what type of dresses are your competitors stocking up on? Is there a specific material, style or theme?
Let's dive into an example: you want to stock up on dresses.
First, look for trending dresses in your market. But what kind of jumper dresses? On Omnilytics, these jumper dresses are currently trending.
Look further and get an overview of popular jumper dresses.
What's the right quantity to produce?
Unlike reselling, there's a minimum order quantity (MOQ) for private labels, especially if you're working with manufacturers, as opposed to sewing the garments yourself.
It's essential to have a good relationship with the manufacturers, as they're the ones producing your products. Build a strong foundation. Most importantly, clearly define quantity and payment terms before you proceed.
A good starting point for negotiation on the latter would be 50-50; 50% upfront upon confirmation of samples with the remaining 50% upon completion of bulk production.
The quantity (per SKU) here is dependent on the manufacturing source and your sales channel. Are you going to manufacture or sew it yourself? Are you going to sell on your own website or will you be consigned to a marketplace?
I've separated into two options for you:
Option A (Working with a manufacturer)
Similarities
For both sales channels, starting with 10-15 SKUs may seem like you're undershooting, but keep in mind that producing one SKU will roughly take from one week to a month – including designing, production and testing.
The range is enough to keep customers interested and still a safe number that won't lead to a loss.
Your depth of SKU should cover 3 key sizes and 2 colours for both channels – depending on the style. Not every SKU needs another colour or extra sizes, the key is to provide a good mix.
Differences
The core difference between both sales channel is the piece per SKU.
*For e-commerce site and social media, 100 pieces per SKU is generally a good start. However, do keep in mind that some manufacturers have a set MOQ per size.
For example, if you're planning to manufacture sizes S, M and L, your manufacturer may request for 150 pieces for each size. That leads up to a total of 450 pieces. Your challenge here is to negotiate with your manufacturer to a number that you are comfortable with.
For marketplaces, on the other hand, the optimum range needs to be lower.
For one, there's no guarantee that the marketplace will push your products extensively. Marketplaces also tend to delay cash flow, as payment is not instant. This affects the capital for your next collection, as well as buying processes. 50 pieces per SKU will be sufficient for you to test the market. Once you see results, feel free to raise the number.
Option B (Sewing on your own)
Similarities
The total SKUs would be lower here since handmade items take a much longer time to produce. To keep your business sustainable, 5-10 SKUs would be feasible. If you do you hire a bigger team, bring it up a notch.
3 key sizes and 2 colours are more than enough to start.
Differences
If you're opting to sell on your own e-commerce site or social media, use 20 pieces as your benchmark. While there's no MOQ since you'll be creating everything from scratch, you still need to take account of other costs like labour, fabric and equipment.
The same applies to marketplaces, but the number should be even lower since you won't be able to have much control in both the marketing and payment process aspect.
Other questions to consider:
Do you want to launch by season, festivities or collections?
Is there a particular month where you want to produce more? (Look back at sales phasing)
Once you start selling, you'll be able to see what you did right and what can be improved. From there, restructure.
How should I price?
Your pricing strategy fares greater than three of the other models, as it includes beyond just shipping and packaging. Here are just a few things to consider:
Materials
Manufacturing
Production costs
Labour
Logistics
Customs duties and taxes
More importantly, you would need to align with market expectations to maximise your margins.
If you price significantly higher than the market rate, there is a high chance your customers will go to your competitors instead. Price too low, on the other hand, and you lose out on a higher profit.
For private labels, understanding the optimal price band for different subcategories would be most essential. As you're working with a fewer breadth of SKUs, you would need different types of dresses to keep the shopping experience exciting.
This also means you would need to know how to price for each clothing.
Here's an example:
As shown above, bodycon, wrap and shift dresses from Brand X have different price bands, with more SKUs on the range of USD 25-50. It is also clear that bodycon dresses and wrap dresses are prioritised more, as there are more SKUs than shift dresses.
However, when sellout rates are shown, all three categories had impressive numbers. This showed that Brand X had an opportunity to further drive shift dresses, which is a gap you could potentially fill.
Where should I manufacture?
There are generally 2 ways to manufacture your products.
Original Design Manufacturing (ODM)
Original Equipment Manufacturing (OEM)
ODM designs accordingly to the specifications of your product. OEM, on the other hand, only designs based on their own specifications and then sells it off to a third party to distribute and market. With that said, some OEM does allow minor customisations.
If you are a designer or work with a designer that knows the right measurements to each style, you can opt for ODM. However, if you prefer to have ready-made items or work with samples, OEM is your choice.
Get a free PDF version of this ebook – read anytime, anywhere.
Launch! – Marketing Your Clothing Line from $0 to $10,000
Can you launch your clothing line? Yes. Can you take a break now? Not yet!
Launching isn't the last step, because you still have marketing to do. Marketing fuels your growth as it drives traffic to your clothing line – thus potentially leading to more sales. You might have two worries now:
I don't have enough funds to do marketing.
I don't know how!
These are valid concerns, but they shouldn't deter you. Firstly, there are plenty of marketing hacks that require little to no budget. Secondly, you don't need a marketing degree to market your brand from $0 to $10,000.
It's a 'great-to-have', not a 'must-have'. Instead, what you really need is to do a lot of testing.
Put this on your wall: Do not give up if you don't see any results.
There's a framework called 'The Bullseye Framework' (by Gabriel Weinberg), where each layer helps you inch closer to your goal.
The outer ring comprises of everything that's possible, the middle is what's probable, and the inner is what works. Similarly, you need to experiment and see which ones work best for your clothing line.
Place everything in the outer ring, and then move it to the middle if they're working well and ultimately, you'll be able to find something that's made to stick – right at the bullseye.
Here are a few that you can test now:
Generate organic traffic for your clothing line
Organic traffic is one of the best places to start since it doesn't require any funds at all. In order to boost your visibility on the internet, use strategic keywords. This practise is known as SEO (search engine optimisation). These keywords are what your audiences are already searching for on the web.
This handy guide by Neil Patel teaches the basics of SEO. It delves into the mechanics of SEO, the differences between on-page SEO and off-page SEO, and why white-hat SEO is always the better choice. Read this first to fully understand how it works, so you'll be better equipped before starting.
Okay, now we can start! Hare a few keyword planners you can try:
Once you've identified the keywords, you can start placing them on your website. From your homepage to your product descriptions, every word counts – so make sure you place them in strategically.
Another way to boost organic traffic is by creating content. No, it isn't sufficient to just write a 500-word article and calling it a day – well-written and insightful content, one that your audience can find value in.
Take a look at your social media timeline. There are at least 3 people that share content he or she found valuable. Science backs this up.
Here are some keyword basics:
Place keywords strategically
Key areas are in your title, H1s, alt-text on images, tags, and in the first paragraph of your article. This lets Google know you have a singular topic, and allows them to index it faster. Use synonyms to avoid repetition. If you're writing about 'how to start a clothing line', opt for "fashion business" or "clothing store" instead.
Primary keyword: Clothing line
Secondary keywords: Fashion business, clothing store
The longer the article, the more keywords you need
If you have a 2000 word article and you only mentioned the keyword once, Google may not be able to clearly identify what your topic is about. Use your primary and secondary keywords more often – but do not overuse (more on that in a bit).
Do not stuff keywords
If you stuff keywords with hopes that Google will pick it up, it'll actually do the opposite. When you use keywords, ensure they flow well with the rest of your content. If you're placing them there for the sake of them being there, remove.
Now, before you start writing and placing in keywords, there are best practices in SEO you need to know about.
Best Practices
Create quality content
This sounds redundant, but this is an actual rule! In 2017, Google devised the rule in order to increase the quality of content released. In other words, to gain Google's trust, ensure you produce content that people will resonate with.
Feel free to link others
Google has something called 'link juice' and this is how it works: When high-quality websites link to you, your website gains a high authority domain. To get those links, you can reach out with collaboration proposals, write a press release or simply, link to others.
Not only does the practice prove you've done your research (Google considers this as good quality content), you'll also be noticed. Win-win.
Longer content tends to fare better
While there isn't a 'right' total word count, studies have shown that long-form content performs better – thus gaining higher authority from Google. You don't need to write a novel, but the 1000-1500 word count range is a good place to start.
Constantly post on social media
You probably already have an account, but simply creating it isn't going to be enough. Constantly building your profile(s) will bring more rewards – after all, we spend an average of 135 minutes on social media per day.
First things first, how many platforms are you on? You probably already have Facebook, Instagram and Twitter, but you don't have to stop here. Here are a few other platforms that are applicable to fashion:
Pinterest – Great for sharing visuals of your upcoming collections, as well as #OOTDs. If you're not familiar with Photoshop or Illustrator, Canva is a great alternative for non-designers.
LinkedIn – Reach out to other brands and retailers for potential partnerships (another great marketing hack).
YouTube – 'Apparel' is in the top three for the highest average number of subscribers by brand category. However, do take note that maintaining a YouTube account requires high effort, as it involves heavy production at times.
Snapchat – The app is perfect if your target audience is from the Generation Z market. Use geotags to boost visibility.
Go ahead and try any of these platforms! Just remember to study the app's core demographics before committing. Once you do, you'll be able to target more people on various platforms – and might even be surprised at the results.
The next question to answer: Are you active on all of them? A common mistake is creating various accounts – but only focusing on one. Regular updates on all platforms boost your online presence and help to maintain a cohesive flow.
Here are the best practices:
1. Keep your feed clean
Before you upload everything in one go, make sure the pictures are relevant to your clothing line's identity. If you notice, most brands and retailers stick to one theme. Uploading irrelevant images at random may potentially drive users away – so keep it clean, guys.
2. Proper use of hashtags
If you're new to the platform, hashtags are great tools to boost following. However, keep in mind that just like the images used, the hashtags have to be relevant too.
Tip: Use 3-5 hashtags in your caption, and for the rest, put them in your comment. You'll still be able to maintain a clean feed while targeting your audience.
3. Engaging captions
Complement your images with thoughtful captions and provide context. Directing a CTA (call-to-action) is also a good way to engage, such as asking them to comment or tag someone.
4. Find the best time and day to post
While you should still post constantly, there are specific time and days that will generate the best results. There are plenty of resources that tell you 'the best time to post', but take them as a guide – not a rule. Once you start experimenting, you'll begin to notice patterns.
Build an email base
To hook both new and current customers, newsletters come in handy. Studies show that B2C businesses saw an 89% growth in revenue with email marketing, with a high ROI to boot. Besides, emails accelerate your brand building growth, since you can directly reach out to subscribers instantly.
To get started, choose an email software that meets your needs. Popular choices are:
All of the above cover pretty much everything you need as a beginner – email templates, time-based autoresponder, detailed analytics and marketing automation.
However, do take note that GetResponse and AWeber do not have a free plan, offering only a 30-day free trial. MailChimp, SendinBlue and Hubspot have free plans, but with a cap on subscribers and tools.
With the software in place, you can start planning out a list of emails. For e-commerce, these are the top ones to create:
1. Offer email ($10 off first order)
To capture subscribers on your website, offer a discount code. This is to entice visitors to leave an email, and for you to convert them to loyal customers.
2. Welcome email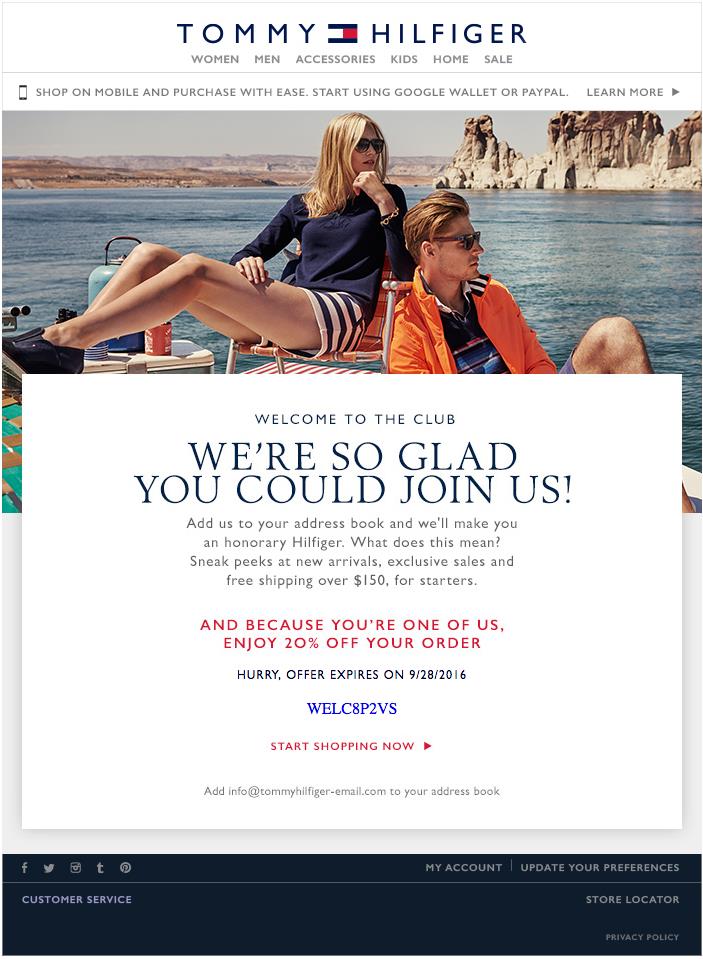 Do not keep a potential customer waiting. Automate your welcome emails so that they'll immediately receive the code. Take this opportunity to also:
Introduce your clothing line
Write a thank you note
Tell them the perks of being a subscriber – Users have a high chance of drop-off after using the discount code, so give them a reason to stay.

First to know about a new collection
Welcome emails are meant to be what it says: to welcome. Building a sense of community is a great way to keep your visitors subscribed.
3. Email drips
Meet their expectations with email drips! If you've promised to send a newsletter once a week, do just that. You can either keep a fixed template or switch it up every week! Test out different headings and subheadings, as well as the content itself.
4. Confirmation email
When you receive an order, they should receive a confirmation email as well. Attach an invoice and let them know when to expect the package. If you want, you can also include in a link to change their orders or address.
5. Abandoned cart email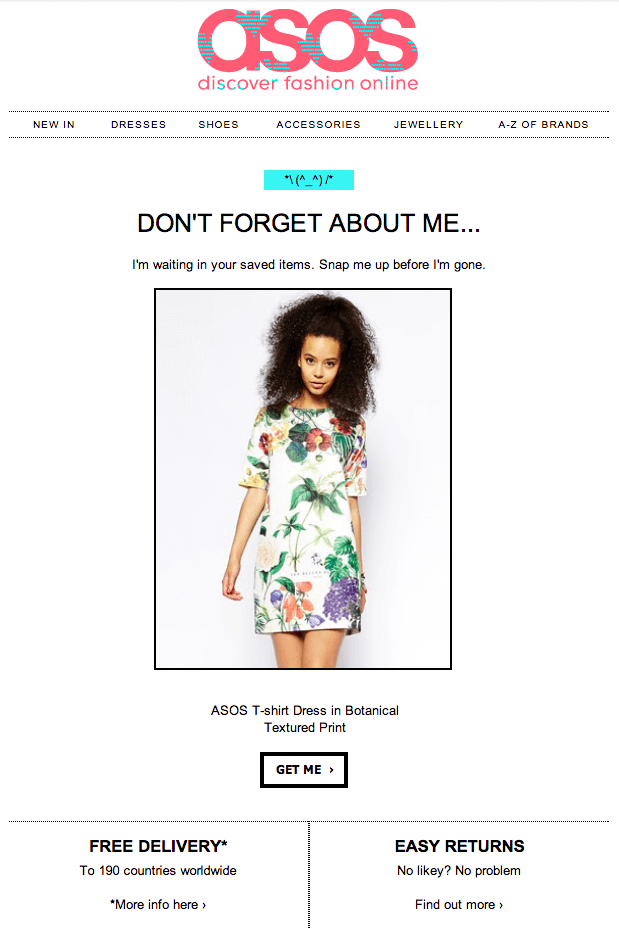 These emails target visitors that didn't complete the checkout process. Though some eventually return and purchase, don't leave this up to chance. Set the trigger for when they exit your browser without checking out. This method pulls them back in and has been proven to work tremendously.
6. Personalised email
Whether it's for a birthday, a festivity or a special occasion, personalised emails work wonders. Build relationships with fans of your clothing line.
Be a pro in advertising
Advertising often has a bad reputation but this marketing strategy is effective once you've gotten the hang of it. How do you know if you should implement ads for your e-commerce business?
You already know the benefits of advertising: it drives awareness, increases sales and promotes marketing campaigns – but it goes beyond that. Running ads for your clothing line allows you to leverage data for sharper consumer insights.
From running ads on platforms like Facebook, Google Ads (formerly Google Adwords) or Google Display Ads, you are able to use data to your advantage for a deeper understanding of consumer behaviour.
What do they search for? What are the specific keywords? This is related to the point on organic traffic, where you leverage keywords to build SEO.
With the goal of understanding your consumers better, you are able to pinpoint not only who to target, but how to target your audience.

Here are the recommended ad platforms:
Facebook Ads
Google Shopping
Google Ads
Before we break down the platforms, let's first understand the different ad models.
CPC – Cost per click
You only pay when there's a click
Great for driving conversions
Cost is dependent on the quality score

The amount you pay on Google Adwords for each click is determined by the quality score for that specific keyword. Google judges the relevance of your ad for the search query. In other words, if more people find your ad relevant, the more they will click – thus lowering your cost per click.
CPM – Cost per 'Mille' (Impressions)
You pay for 1000 'impressions' (ads) to run
Great for driving brand awareness and engagement
You're paying full-price, even if the performance is not up to your expectations
With a clear overview of each model, feel free to pick one that best suits your need.
You might start to wonder "Okay, I've picked one! Now what?"
Here are the general steps:
1. Set up events tracking on your clothing line's website
This allows you to identify where your traffic is coming from. Google Analytics is a popular choice. You'll be able to pinpoint where visitors are visiting from, and what they do on your site. If you're running ads on Facebook, integrate Facebook Pixels in your Facebook ad account.
2. Determine a set of keywords
First, find keywords that are relevant to your business. You can use Google Keyword Tool or SEMRush to get different keywords that your audience typically uses.
3. Be specific
Instead of 'Dresses', go for 'Summer Dresses for Petite Girls'. Targeting long-tail keywords will help you reach a more specific audience with a higher intent to purchase.
4. Create ad campaigns with high relevance to your keywords
All that's left to do is watch the numbers go up!
Avoid these common mistakes:
Ignoring negative keywords

Negative keywords ensure your ads go to the right people. For example, if you're creating an ad campaign for Singaporeans to attend a partnership event in Marina Bay Sands, your keywords would be 'event in Singapore' or 'event in Marina Bay Sands'.
Adding negative keywords, such as 'event in Indonesia' or 'event in America', will stop your ads from showing up on these searches.
Unspecified match types

This grants the freedom to Google to show your ads for related keywords. Examples of different Match Types are Exact match, Broad match and Phrase Match.

Select [Exact Match] only, so that your target will be more specific.
Enabling Display Ads

This section is usually auto-checked by Google Ads. Assure you disable it so that your ads only show on relevant search results.
Host giveaways
You don't need statistics to know that giveaways speed up marketing – people love free things. The idea is that in exchange for a free prize, you'll receive back high brand awareness and growth in following.
However, there are a couple of things to note before hosting one:
1. The following may be temporary
Your followers are people that find value in your clothing line. The new followers may not, as their only goal in mind is to win the prize.
2. Scarcity is key
Holding too many giveaways gives off the wrong impression. Some brands make the mistake of hosting a giveaway every month, in hopes to maintain a certain following.
The downside is that the followers may only see you as a brand that offers free things. Unless that's your brand identity, use giveaways sparingly.
3. Think from your target audience's point of view
Would you go through a long and complicated process to win a $20 gift card? Some brands ask for a lot, but the returns aren't as exciting, which drive followers away from not participating at all. Keep things simple. Here are a few examples:
Ask for a follow
Request to tag 2 friends
If it's on Instagram, ask for an Instagram story with hashtags
Come up with a caption
Answer a question
You can combine the steps if you wish ('Ask for a follow' and 'Answer a question'). Only ask for extra steps if you know the prize is irresistible – like a free vacation or a chance to meet celebrities.
Tip: Reposting is another popular ask, but remember that most would prefer not to disrupt their current feed.
4. Partner with other brands for maximum returns
This will be in the next point!
Look for more opportunities with partnerships
Partnerships, like giveaways, help to increase brand awareness – especially if you're partnering with brands that already have a large presence in the landscape. In fact, you don't need to limit yourselves to just fashion brands, it can be media companies, food service or beauty brands. There is one caveat though; these brands need to be relevant to you and your customers.
There are various types of partnerships you can conduct, including:
Giveaways
Content swap
Marketing campaigns
Clothing collaboration
Forever 21 and LA Gear, for example, hosted a giveaway together, receiving 280,000 views and thousands of entries.
The steps to a partnership are relatively simple:
Reach out with an email
Await a reply. Follow-up and/or if necessary.

Do not spam anyone! It gives off a bad impression.

If you get a reply, set up a meeting and discuss potential ideas.

This is the part where you need to pay extra attention, especially if it's your first partnership. Strike a clear balance between you and the other company.

A partnership, unlike a sponsorship, should have equal parts of both effort and rewards. If the scales are in their favour, gently bring it up. Vice versa, if they bring it up, try to meet them halfway. You want more friends in the industry, not enemies.
Try influencer marketing for your clothing line
Influencer marketing, an alternative to traditional mass media, has been on a rise lately. Its popularity is understandable – people rely more on word-of-mouth and influencers speak directly to your target audience.
That is, if done right.
Not every influencer will bring you the results you want. There are many factors that contribute, but the biggest one is the misalignment of target audiences.
Not every fashion influencer has the same target market as you do, so do your research well. Additionally, most influencers now charge fees, so all the more reason to be extra cautious.
This list can serve as your benchmark:
Engagement Rates
How many followers do they have? How many likes/comments do they have? Do most followers have real profiles*?
*It is common for influencers to buy followers since competition is getting stiff. You can use Social Blade to verify.
Brand Affiliations
Do they represent any other brands? Are the brands similar to yours? Do the brands sell similar clothing?
Demographic
Are most of their followers male or female?
Influencer Interests
Are they personally interested in fashion? Do they have other interests? Do those other interests align with your brand identity?
Followers' Interests
Do their followers follow them for fashion news/tips/style guides or other reasons?
From the list above, it is clear that it involves a lot of manual work – but it's better to invest in the right influencers that garner high ROIs. Check their engagement rates, brand affiliations and followers interest.
Do PR outreach
PR is a broad topic, so anything that involves spreading your brand name out is under it. This ranges from partnerships to getting an influencer to endorse your brand.
For your next PR move, use this template to start outreach. Feel free to edit wherever relevant.
*Keep this short and sweet. If you're reaching out to others, you need to give them a reason why they want to work with you. Writing a paragraph about your clothing line will not interest them, so keep that in mind!
For example,
Shipping & Logistics
Now, we're entering the more tedious section – but they're just as important. Shipping and logistics are something you need to consider thoughtfully.
Here are two main areas:
What types of shipping should you offer for your clothing line?
Flat rate shipping

This is the most common for new businesses. For example, you may set $8 for domestic shipping and $12 for international orders. However, do note that this may not be attractive to your customers, especially for those with lower order values.
Free shipping above a certain amount

Most companies in the industry use this method to meet customers halfway. Customers will purchase more to meet the threshold so that they can get free shipping.
Free shipping based on location

Customers enjoy free shipping if their address is within a specified location range. While it entices customers, this option eats into your profit margins.
To start, you can combine the first and second option. ASOS has this for international deliveries – there's a standard delivery fee of £3 and free shipping to other countries if a minimum spend of £20 is met.
What shipping methods are there?
National postal services

National postal service is the largest shipping provider in your specific country, mostly operated by the government. Click here for the full list of global national postal services.
Last-mile delivery partners

These are alternatives to national post in most countries. Delivery services like FedEx, DHL and USPS Customer Gateway are examples.
Of course, if you're going to primarily focus on domestic orders, there are delivery partners in your own country as well. To find out, search the keyword "Last-mile delivery partners in ___________ (country)".
How much should I charge for shipping?
This depends on your shipping courier, where you're shipping to and from, the weight and size.
Every postal service will have its own shipping calculator, so use the keyword "___________ (delivery service provider) shipping calculator" to find out. Alternatively, you can set up a shipping calculator directly into your website by looking for the plugin of your web software.
Other Considerations
Exchange & return policies
If you do decide to do exchanges and returns, there are a few ways around the policies.
1. Allow exchanges or returns based on any reason
This means that your customers can exchange or return any item they want, even if the reason is "I don't like it."
2. Allow exchanges or returns based on limitations
You can set your own limitations, such as defects or wrong sizing.
3. Allow exchanges only
Setting this policy saves your total shipment costs and keeps your sales forecasting relatively easier. However, if you go with this method, remember to come up with contingency plans. For example, how do you compensate a customer who asks for an exchange but you already ran out of the size requested?
Things to consider:
What's the eligible timeline for exchanges/returns?
What items can be allowed for exchange/return?
Do you or the customers bear the return costs?
Do you allow exchanges for any same-priced items or only exchanges in size/colour?
Here's Uniqlo's exchange and return policy as an example, in which they go with the third option:
Original receipt is needed for product exchange within 30 days after purchase.
Products can be exchanged if there is a manufacturing fault.
No refund policy.
Products can be exchanged provided that the products are in new and original condition.
The difference will not be returned if the price of the exchanged item is lower than the original item.
Following items cannot be exchanged: Socks, innerwear, camisole and item that has been sent for alteration.
UNIQLO reserves the right for the final decision.
UNIQLO reserves the right to alter this policy at any time.
Customer service
Ensuring your customers can reach out to you is also something to consider. If they have any enquiries, what's the best platform to reach you? Write this down in your website's FAQ or About Us section, as well as in the confirmation email.
In the beginning phases, answering questions won't take much of your time. However, as you get more customers, customer service will seem like a full-time job.
While you can hire someone to oversee the process, you can also create templates that cover the usual FAQs.
Here are common questions you'll get:
Why haven't I received my parcel yet?
How do I return an item?
How long is the return process?
Can I get a refund?
How do I cancel an order?
At the end of the day, customers just want to know that you are taking their complaint, concern or question seriously.
As long as you have a well thought out and reasonable response, your customers would most likely understand. There may be a handful who won't but that's alright. No matter what you do, you won't be able to please everyone.
Ready to start your clothing line?
Alright, you've pretty much covered all of the basics of how to start a clothing line Yes, it's a lot to take in, but the good news is you don't have to complete everything in one day.
Take your time to lay everything out, because, for your clothing line business to take off, you need a strong foundation. If you feel unsure about something, just refer back to this article anytime.
But however long it takes, just make sure you don't give up halfway.
Your dreams of starting a successful clothing line are much closer than you think.