Summer's Trending Colours in Fast Fashion
The annual announcement for Pantone's colour of the year is highly anticipated in the retail world given their reputation as the world-renowned authority on colour.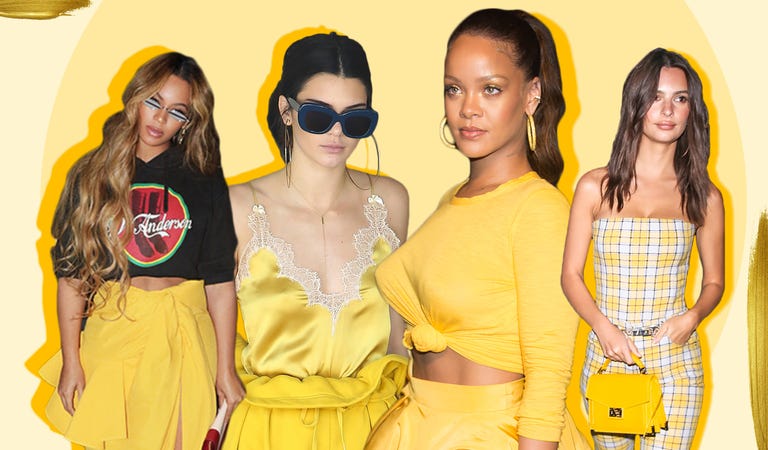 Source: Cosmopolitan
Their prediction of Millennial Pink's success was indeed spot on as who could dismiss the global phenomenon of the dreamy shade, which lasted way longer than expected.
Following that, Generation Z Yellow trumped over its predecessor as the IT colour donned by supermodels, celebrities and Instagram influencers alike. Such was the popularity of this shade that eBay reported a 7% increase in sales for yellow dresses compared to 2016.
It is no doubt the cheery yellow shade is synonymous to summer season, but how did this assumption translate on retail this year? That is what we are going to find out now.
With so many colour shades out there, the convenience of data allows for an accurate method to study the movement of colours in retail. We used the data from two of the biggest retailers in fast fashion, Zara and H&M, to examine colours that sold well in summer this year.
Monochrome colours like black, white and grey were omitted from this analysis as they are considered evergreen colours and popular all year round. 
We drew data from each respective colour groups to determine the top trending shades. Both results from Zara and H&M bore almost similar results with blue, red and pink leading the colour categories. Diving deeper into the top three trending colours of summer, we dissected what styles performed best for each of these three shades.
Vivacious Red
Source: Glowsly
As predicted by Vogue to be one of the trending colours for Summer 2018, vivid red was inarguably a popular colour for both retailers, complimenting the warmer season. Performance for vivid red assortments were positive, boasting at least four stockouts over summer. Interestingly, more formal pieces of red assortments were in favour among consumers for Zara wheareas H&M's bestselling assortments of the same shade performed best with floral prints. 
From left to right (all from Zara): Dress with Contrasting Topstiching, Asymmetric Leather Skirt
From left to right (all from H&M):V-neck Top, Playsuit
Monday Blues
Source: Glowsly
While blue is quite a versatile colour throughout the year, one would assume that lighter and brighter shades of blue took over throughout summer. However, our data proved otherwise as darker colours were uptrending from June to August. Even denim shorts went a few shades darker, experiencing at least four stockouts and replenishments each respectively. Zara's top performing shorts bore a deliberately distressed and oversized fit, which contrasted against H&M's fitted and proper best-selling shorts.
From left to right (all from Zara): Mom Fit Bermuda Shorts, Authentic Denim Mid-rise Shorts
From left to right (all from H&M): Twill Shorts, Denim Shorts
Pretty in Pink
Source: Glowsly
The worldwide phenomena of Millennial Pink may have simmered down but that did not stop its emergence in the fast fashion retail scene this year. Dainty lace and light pink were the dynamic duos of summer for H&M, experiencing at least three stockouts in August.
On the other hand, Zara's best performing pink pieces were feminine dresses with statement details like bold florals and ruffles.
From left to right (all from Zara): Dress with Contrasting Belt, Oversized Shirt Dress
From left to right (all from H&M): Cropped Lace Top, Off Shoulder Dress
Predictable with its Unpredictability
You can no longer assume what is going to sell well for your retail business today, just like how the relegated bright and sunny colours have stepped away from the summer limelight and gave way to their darker cousins.
As unpredictable as it may be, this inevitably widens the gap for market demands in the colour spectrum so retailers can tap into what is lacking and stock up on the unexpected ahead of time. But it can only be done with the power of data.
When fully utilised and harnessed, retail data will ensure the reduction or prevention of stock inaccuracies that will further maximise profits.
Want to know more about current colour trends and strategise your collection? Drop us an email at info@omnilytics.co and we'll be in touch!