The Ultimate Guide to Athleisure
Athleisure is one of the most prolific trends in contemporary fashion.
The term was first coined in association with Lululemon as part of the yoga craze in the late '90s.
Known for its premium-priced yoga pants, the brand's core following was professional young women leading healthy lifestyles. Due to immense comfort the yoga pants provided, these women started wearing Lululemon's yoga pants out of the yoga studio and in regular life. And with that, the concept of athleisure was born. 
The popularity of athleisure is also due to the rise in fitness and wellness. At the beginning of the millennia, there was a pivoting moment in our social culture when wellness became a luxury. It was suddenly cool to go to the gym and for the first time, what you wore to the gym mattered.
As wearing athleticwear out of the gym became the norm, athletic clothing was no longer a small product niche. Brands like Nike and Under Armour jumped on the bandwagon not long after Lululemon, producing their own lines of compression tights and leggings.
However, athleisure has evolved way beyond just yoga pants. From sports bras to sweatsuits, athleisure now encompasses everything to do with athletic gear. Lululemon now sells 22 product categories including shoes and accessories.
Trend or Fad? 
A few years down the road, many debated if athleisure was an actual trend to stay or just simply a fad. Karl Lagerfeld famously declared "sweatpants are a sign of defeat. You lost control of your life so you bought some sweatpants." But consumers disagree. Over 20 years since Lululemon sold their first pair of pants, the market for athletic wear continued rising.
In the fashion industry where a new product category, like athleisure, enters the industry, it experiences a huge surge in growth as brands start to establish themselves in the market. However, as competition increases, the market becomes oversaturated and growth slows down. But the athleisure market is a completely different game.
Unlike most trends, athleisure is strongly associated with a lifestyle – a lifestyle that people dedicate their entire lives to.
Another important element of athletic wear is that it's grounded in technical innovation and practicality. Consumers have adapted to paying premium prices for athletic gear due to its functionality – Omnilytics data shows the average price for activewear products is between USD 50 – USD 100. Words like "high compression", "full support" and "extra stretch" are commonly used to describe athletic wear products – the more adjectives used, the higher the price.
The material behind most activewear is derived from spandex (also known as Lycra) which is a synthetic fibre that was created to be elastic. Initially, spandex was intended to replace the use of rubber in hosiery and underwear but it was reimagined for activewear in the '70s due to the popularity of aerobic exercises. Since then, Lycra has been the basis of most activewear fabrics.
When Lululemon came into the picture, they created their own mix of nylon and Lycra called Luon (patented in 2005). The higher mixture of nylon in the fabric allowed for a softer feel, mimicking the texture of cotton without sacrificing stretch and mobility.
Soon, many competing brands used a similar fabric blend paired with new innovations to combat odour and thermal-regulation such as Nike's Dri-fit and Adidas' Climalite. Innovative fabrics are a huge contributing factor to the widespread of activewear as brands strive to elevate these products. 
Athleisure in numbers
The global athleisure market is one of the fastest-growing segments of the apparel sector. An NPD analyst group study from 2018 showed athleisure represented 24% of total apparel sales in the US.
Another report by GlobalData group states the demand for athleisure globally is expected to rise 9% this year – surpassing the total clothing and footwear market by 2023. 
NPD's chief industry advisor, Marshal Cohen states "I'm often asked if the athleisure trend is going to fade away, and the answer is no. When you have comfort and function combined with fashion it's difficult to go back to anything else on a regular basis."
Interestingly, despite having heavyweights like Lululemon, Lorna Jane, Nike and more, there is still a plethora of small, independent brands thriving in the market, especially within the premium segment.
Cult favourites such as Alo Yoga and Girlfriend Collective are stocked by Nordstorm and Net-a-porter. In fact, Net-a-porter's activewear section features several product occasions other than yoga to include crossfit, ski and dance.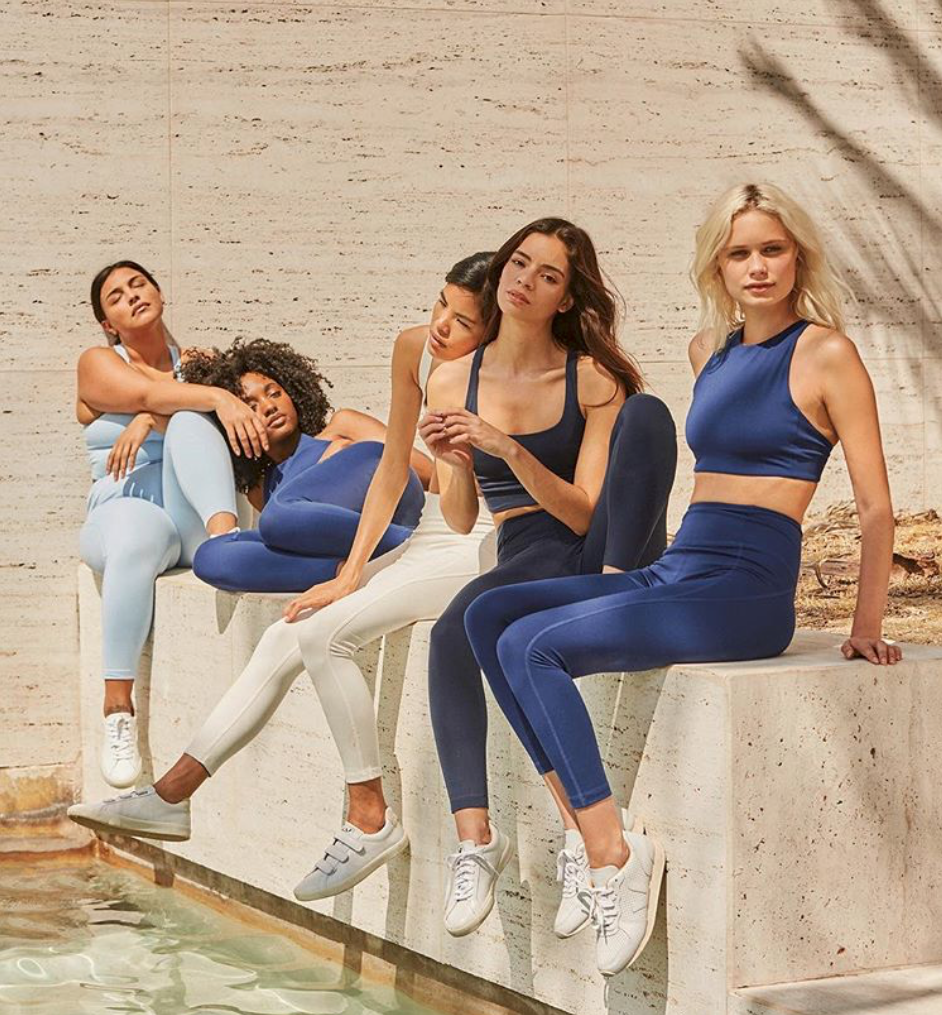 #1 Sneakers are Leading the Way
The product category driving athleisure sales in the US is lifestyle sneakers. Athletic-inspired casual sneakers and skate sneakers sales rose 7% in the US while heels and technical performance footwear sales declined -5% and -7% respectively, according to NPD's analysis released in August 2019.
Amelia Teh, Head of Business Intelligence at Omnilytics states "Our insights point to athleisure footwear as the new norm, having surpassed performance footwear and is expected to take over fashion footwear as the shift towards active lifestyle continues to accelerate."
Lifestyle sneakers also had the top sell-out rate in 2018, according to Omnilytics' global online activewear report. Surprisingly, the winners in this segment were Fila and Under Armour. The '90s inspired chunky shoe trend propelled Fila's Disruptor II into success, achieving a sell-out rate of 86.1%. The performance of Fila's footwear category from Q3 of 2019 still shows strong progress, maintaining above-average sell-out performance with minimal discounting.
With that said, Fila and Under Armour only account for a very small chunk of the sneaker market share. The vast majority of sales within this segment can be accredited to Nike and Adidas. Omnilytics' Adidas and Nike for women report revealed over 64% of Nike's assortment was dedicated to women's footwear whereas Adidas had 24%. However, when it came to the sell-out count, Adidas managed to edge out Nike by nearly 500 SKUs.
Nonetheless, Nike Inc is still the king of sneakers. Nike's 2019 Q3 performance brought in over USD 9 billion in revenue with an 11% increase on year-on-year growth. All brands under Nike including Jordan see double-digit growth.
Nike's huge lead in China and a strong digital strategy with the SNKRS app solidifies its position as the number one lifestyle sneaker brand of 2019. During this quarter, 17 of the top 20 models launched through the SNKRS app had 100% sellthrough rate. The Air Jordan 11 Concord ranks as one of the most successful launches done through the SNKRS app. 
#2 Menswear is the Next Big Thing 
The athleisure market that was once predominantly dedicated to womenswear has since expanded to include men's. The menswear category shows enormous opportunity in the athleisure market – the menswear yoga market is expected to outgrow women's in the next 2 years.
Lululemon opened its first men's flagship store in 2014, selling key products such as workout trousers, yoga wear, underwear and even beer. The men's segment attributed 21% of the Lululemon's total revenue of USD 3.3 billion in 2018. Lululemon's Q3 2019 report also stated that the total revenue for men's products increased by 38% with plans to double down until 2023.
With goals to end 2020 with USD 1 billion sales in the men's segment, Lululemon is positioning themselves as a menswear disruptor, hoping to take a bigger chunk of market share dominated by Nike and Adidas.
Like the women's segment, Lululemon is also positioning itself as a premium brand within menswear. The brand's leading men product category is pants. Nearly 40% of the pants assortment is priced in the USD 150 – USD 160 range, considerably higher than its competitors. The key styles include the Surge Jogger and the ABC pants both priced at USD 128.
While Nike has successfully established itself in the men's athleticwear segment, the brand had not expanded into yoga until recently. In January of 2019, the brand came out with its first mens yoga collection.
#3 The Demand for Women's Activewear Remains Strong 
Although activewear is no longer centred around apparel, the category is still one of the biggest sales drivers in the women's segment. The women's apparel and footwear market are approximately 1.5x compared to men's.
Our recent Adidas vs. Nike for Women report analysed the performance of women's activewear clothing in four markets. The data showed Adidas had a bigger portion of its assortment devoted to women's clothing whereas Nike focused its assortment on footwear. Tops and T-shirts combined with accessories such as socks and hats made up the majority of Adidas' assortment.
The pricing overview also revealed that Adidas' sell-out was driven by products priced under USD 50. The USD 25 – USD 50 price range achieved over 50% sell-out tops & T-shirts and pants & leggings priced between USD 0 – USD 50 achieved over 60% sell-out, indicating Adidas consumers prefer products under USD 50 the most.
Our global activewear report showed Lululemon had the highest sell-out for tops and T-shirts with a sell-out rate of 85%, while Australian rival Lorna Jane dominated the pants and leggings category. The latter achieved a sell-out of 86.4% despite having a substantially higher median price at USD 80. This year, Lorna Jane had a leg up in the tops category beating out Lululemon by 14 percentage points for total sell-out at full price. However, Lululemon achieved a higher sell-out at full price across all categories with minimal discounting and nearly double the total number of SKUs compared to Lorna Jane.
Fashion over Functionality
It didn't take long for high fashion to notice the athleisure boom. As streetwear grows dominance over the fashion scene, we saw more and more athletic-inspired clothing such as hoodies, sneakers and sweatsuits making their way on the runway. Although athleisure is a fairly new trend, the origins of the trend started in the early 2000s as streetwear became an emerging trend and collaborations between sportswear brands and designers were increasingly popular.
One of the first designer activewear partnerships was Adidas' collaboration with fashion designer, Yohji Yamamoto in 2003. The Adidas diffusion line called Y-3 was a hybrid between sportswear and fashion. The first collection by Y-3 presented over 60 looks for men and women sporting Adidas' 3 stripe logo incorporated on Yamamoto's signature avant-garde designs. This collection went on to be a huge commercial success and helped to usher in the athleisure trend onto the fashion scene.
Not long after that, Adidas partnered with Stella McCartney on an exclusive women's activewear line in 2005. Unlike Y-3, Adidas by Stella McCartney was more focused on sports performance – the first collection covered three key product occasions, running, gym and swimming.
As premium activewear started to gain popularity, many designer brands started to create their own diffusion lines devoted solely to sports or activewear. Some notable lines include Calvin Klein Performance, Burberry sport, Armani EA7 and Prada Linea Rossa. However, quite a few of these diffusion lines were cut short due to brand dilution problems as consumers started to perceive these brands as "too accessible" and no longer exclusive.
While a sportswear diffusion line may not be the best strategy for brands, 2019 was certainly the year of collaborations. Nearly every activewear brand participated in a major collaboration with a designer this year. These partnerships have impacted the fashion landscape greatly – many brands have utilised collaborations to help satisfy consumers' increasing demand for newness while creating relevancy. Designer brands that typically follow the seasonal calendar have also started to experiment with the "drop" strategy to emulate streetwear brands that use this launch method as a means to control supply and demand. Most of these collections are produced in limited quantities, making these products highly collectable and sought after.
In 2019, Nike had several designer-led capsule collections including the on-going partnership with Off-white's Virgil Abloh, Sacai and Comme des Garcon to name a few. Adidas Originals, the lifestyle offshoot of Adidas, has had a long partnership with Jeremy Scott, Alexander Wang, Raf Simmons and Rick Owens. This year, they added Prada to their roaster for an exclusive collaboration on their signature Superstar sneaker.
Other honourable mentions are Puma's collaboration with Balmain, Lululemon with Robert Geller and Roksanda, as well as Reebok's collection with Victoria Beckham and Pyer Moss.
Key Takeaways
Athleisure is one of the biggest fashion trends of the 21st century and its popularity can be highly accredited to the rise of wellness and yoga. As a rapidly growing industry, the demand for athleisure has since evolved beyond just apparel to include footwear, accessories and more. In fact, the demand for athleisure globally is expected to overtake the total clothing and footwear market by 2023.
The opportunities to note are:
Sneakers drive the highest sales within this segment. While Nike and Adidas hold a major share of the market, our analysis of the activewear segment in 2018 showed smaller brands like Fila are able to penetrate the market by riding on specific trends that other brands were not tapping into. Brands that were able to identify emerging trend movements would've been able to tap into a particular product niche that's undersaturated with competitors.
Yoga in menswear shows the biggest opportunity as experts anticipate the men's market will outgrow women's in the near future. The once predominantly female-led industry shows enormous growth in the men's segment as more and more men are getting involved in wellness. Even major players such as Nike have only recently started to expand into this area, smaller brands still have a chance to grab a share of the market while it's still new although they will need to be quick.
For womenswear, apparel is the second largest stocked category behind footwear. Consumers seem to react very differently to pricing tiers within activewear. Mass-market brands like Adidas found their pricing sweet spot within the USD 0 – USD 50 price range but premium brands, Lorna Jane and Lululemon had no trouble pushing products priced USD 80 and over despite doing very minimal discounting. Retailers should be mindful to price according to the segment they belong to – the best reference is to check what direct competitors are doing. A "good-better-best" pricing ladder will also allow retailers to have a structured pricing architecture and avoid any issues like underpricing.
The increasing demand for athleisure shows consumers are shifting their wardrobes for products that are multi-fictional and transitional. For people who lead active and busy lifestyles, athleisure offers fashionable products that work for various occasions – whether it's for the gym, the office or simply living everyday life.
Brands planning to expand in this segment will need to be strategic with their product assortment. Although the market is growing rapidly, the competition will be increasingly tight as even indie brands have started to establish themselves in the market. Having data insights to understand how the athleisure market is developing and spotting product opportunities in a timely manner is key to capturing a higher market share.